To create a custom RSS feed widget you will need to have the facility to host your own web page. There are many similar RSS feed widget tools available, that may include additional functionality; this guide gives you an example of one such tool.
Section 1 ‐ Creating the Widget
1 of 13.
Go to
http://www.surfing-waves.com/feed.htm
and scroll down to the "Add Feeds" field.

2 of 13.
Copy the URL of your RSS feed and paste it into the "Add Feeds" field. In this example the BBC World News RSS feed
(http://feeds.bbci.co.uk/news/world/rss.xml?edition=uk)
will be used.
3 of 13.
Change the "Width" and "Height" values depending on how large you want the feed to appear on your display. In this example the box will be 500px X 500px.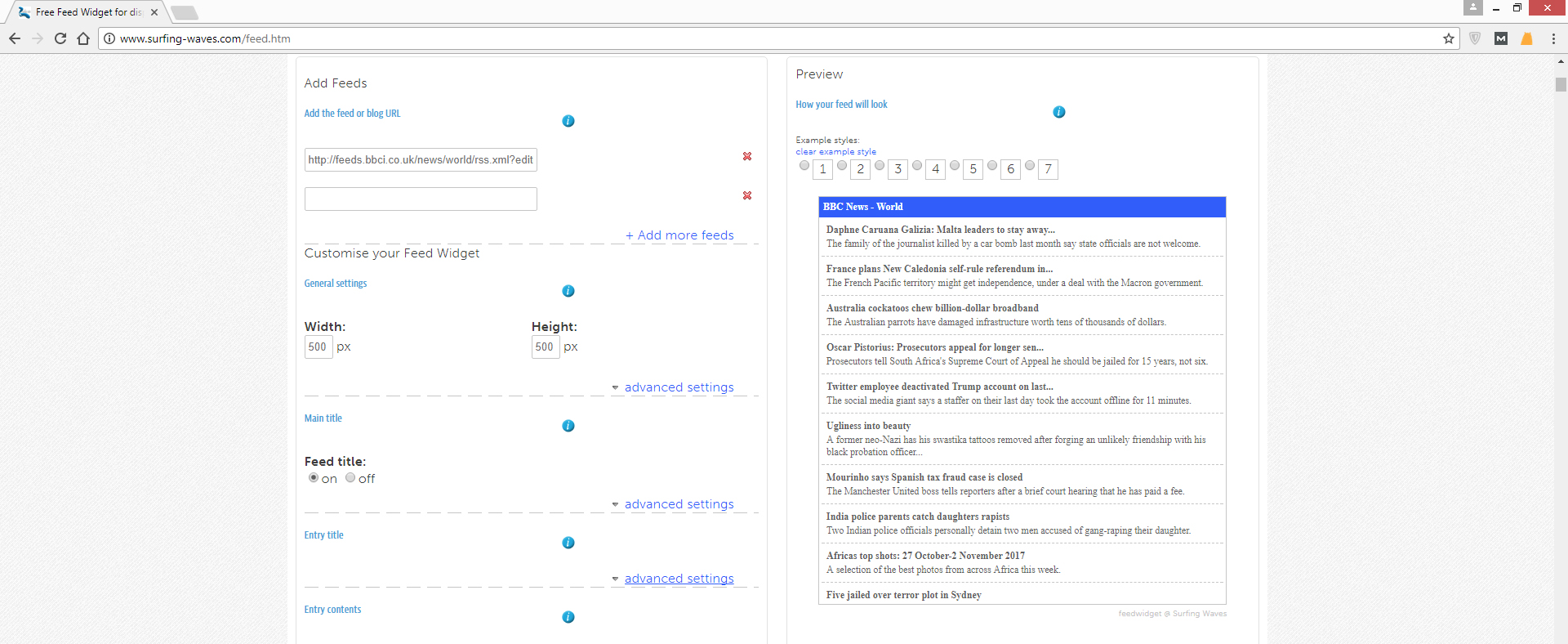 4 of 13.
Make any other styling changes, so that the feed suits your requirements, by changing the settings in the "Customise your Feed Widget" section.
5 of 13.
Go to the "Copy & Paste" field, select the code then right-click and choose "Copy":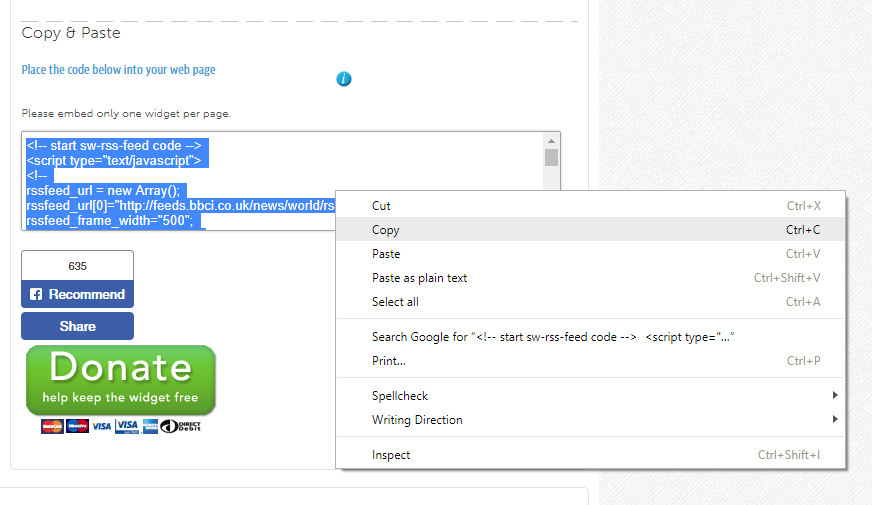 6 of 13.
Create a HTML document and paste the code into the "body" of the HTML file. You will then need to host the HTML file.
Section 2 ‐ Creating the Web Zone and Populating It
Displaying your Facebook feed
7 of 13.
Once logged into the CMS hover over the "Program" icon on the Top Menu, then click "Template":

8 of 13.
To create your own Template you must first select "User Template" from the menu on the left then click the "New" button on the right hand side:

9 of 13.
Create your layout and include a "Web page" zone and size it 516 x 516 pixels in the "Set Parameter" section (this will allow for the default 8px margin on each side of the webpage containing the widget). When finished click "Save and use":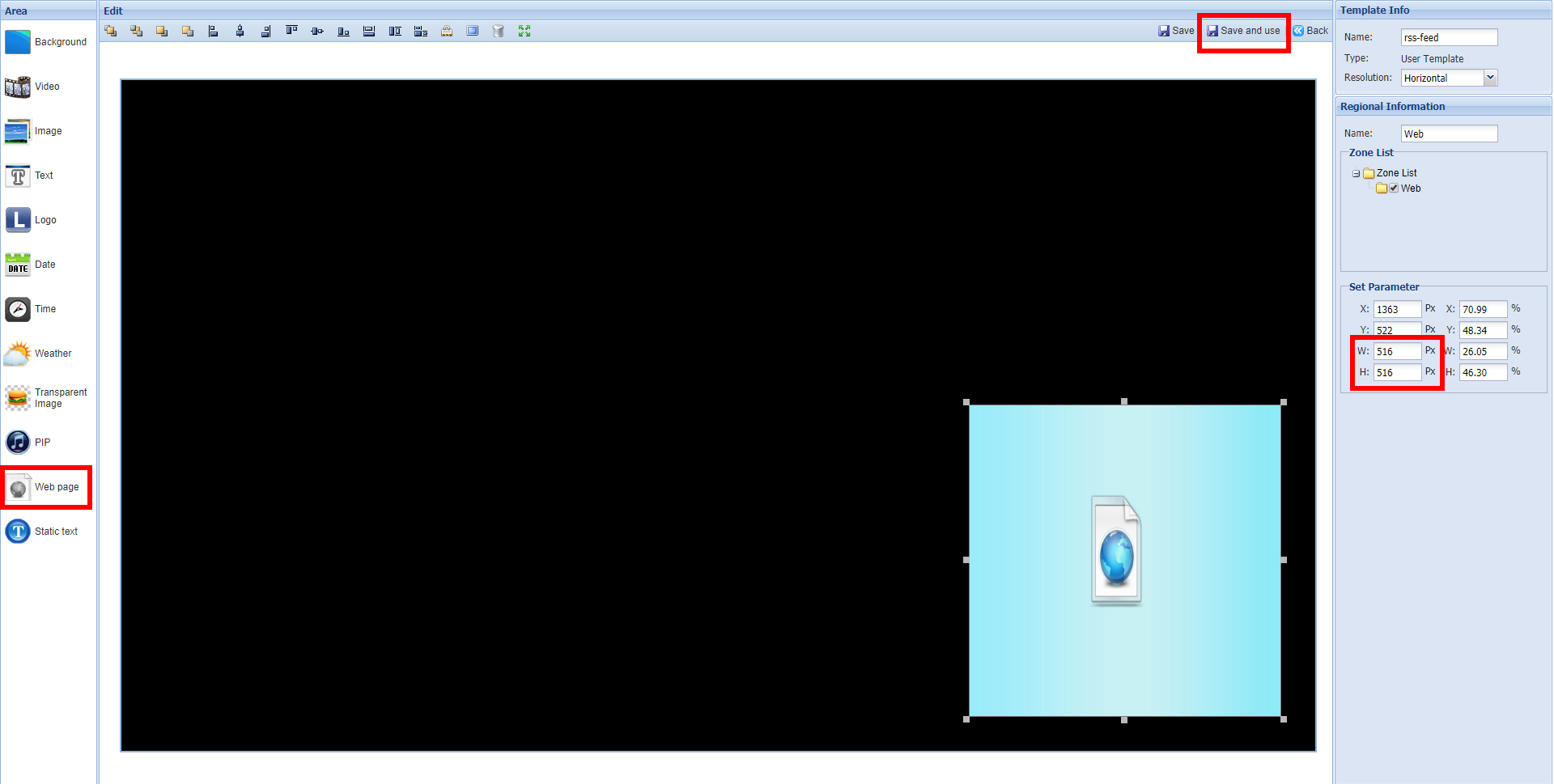 10 of 13.
When creating your Playlist, select the "Web" tab at the bottom and click the green "+" button:

11 of 13.
Paste the URL of the webpage you have created into the "URL" field and set a duration of 1 minute and click "OK":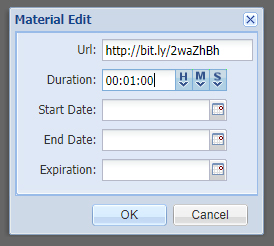 12 of 13.
Repeat the last two steps to add the URL again, this will ensure that the RSS feed page is refreshed automatically every 1 minute (this can be adjusted based on your requirements):

13 of 13.
You can now save and publish your Playlist and the RSS feed will be displayed on your screen like so: